Oranmiyan Omoluabi Odede, Great Prince of Ife, King of the Yoruba, was a Yoruba king from the kingdom of Ile-Ife. Although he was the last born, he became the prime heir of Oduduwa upon his return to claim his father's throne.
The history of the 1st Alaafin of Oyo cannot be separated from the fact that Oyo Empire is one of the oldest and politically influential empires in the entire Yoruba race till date.
In old times, it was geographically located in today Northern central and western Nigeria. Its political influence spanned over two centuries (17th to 18th). This great Empire has been ruled by Great alaafins, from Oranmiyan.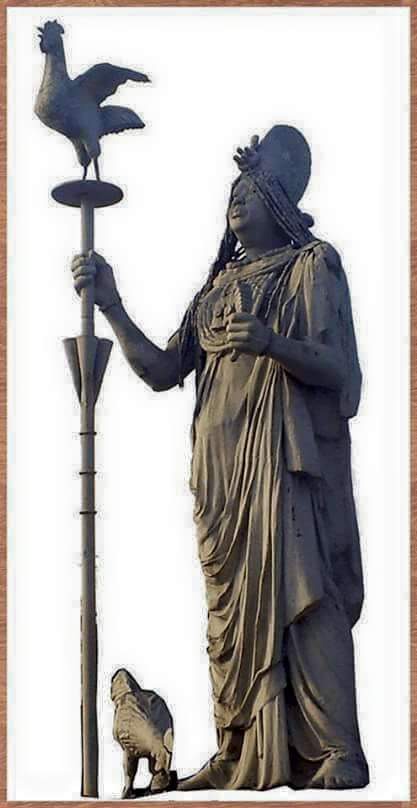 Opa Oranmiyan
He founded Oyo as the 1st Alaafin Of Oyo at around the year 1300 after he had left Benin, where he had been crowned the first Oba of Benin.
Oranmiyan led an expedition to Benin and subdued the people. He reigned for 13 years and returned to Ife.
He, however, met opposition from the kindred of the Ogiso and was refused entrance into the city upon his arrival.
Oranmiyan camped at a place called Uselu, meaning "making of a city" and began to rule the Binis. His different style of management didn't go down well with the chiefs, and they sent agents to spy on him.
All this made Oranmiyan declare that only a son of the soil can cope with the attitude of the Igodomigodo people and call the land "Ile – Ibinu," meaning "Land of Vexation." On leaving Ile-Ibinu (later Ibini and corrupted to "Benin" by the Portuguese), he stopped briefly at Ego, where he took Erinwide, the daughter of the Enogie (or duke) of Ego, as a wife.
Oranmiyan is recognized as the first Oba of Benin and founder of the Eweka dynasty, which is still ruling today.
After leaving Benin, he moved north with his ever-loyal entourage and settled close to the river Moshi.
He founded a city there, Oyo-Ile, which his descendants then expanded into the Oyo empire. He engaged in war with the bariba, his immediate neighbors to the north, and subsequently married Torosi, a Tapa princess, who became the mother to Sango Akata Yẹri-Yẹri.
Initially famous as a great hunter, he later became a universally acknowledged conqueror, in Yoruba land and far beyond.
That he was never a mean man was evidenced by the fact that he conquered and brought under his sovereignty many territories.
Oranmiyan Empire was vast, stretching into Ilorin, present Kwara State in the north, the Ogun River in the south and east of Osun and Dahomey present Benin Republic in the west.
The empire was divided into kingdoms, all of which owed allegiance to him. He was the 1st Alaafin of Oyo and one of the kings of Benin in which his lineage is still ruling the empire up to this present day.
Oranmiyan was a courageous and warlike king.
He was said to have headed his brothers (other Yoruba kings) on an abortive expedition to the east to avenge the death of their grandfather.
After quarreling at a place called Igangan, the brothers dispersed, and Oranmiyan went ahead to found the city of Oyo known as Oyo Alaafin.
Accounts Of 1st Alaafin's Demise
There are two accounts of Oranmiyan's demise, Some say he went further East, leaving his son, Ajaka, in charge of Oyo, and stopping at a town called Oko, from where he could not proceed and so, died and was buried there.
The second account seems more plausible. It says that Oranmiyan left for Ile-Ife, the land of his father, leaving Ajaka to rule as regent at Oyo. Having stayed in Ile Ife longer than necessary, the king makers made Ajaka king in Oyo.
On returning, Oramiyan heard the kakaaki at the border (The kakaaki is only played for the king). He immediately returned to Ile Ife, where he eventually died and was buried. An obelisk, called 'Opa Oranmiyan' was erected at the place where he was buried and is still there to this day.
List of all Alafins from inception
Oranmiyan
Ajaka(eventually dethroned)
Sango- Became a deity(god of thunder and lightening)
Ajaja
Aganju
Kori
Oluaso
Onigbogi- Conducted evacuation of Oyo-ile probably around 16th century
Ofiran- built the city of shaki
Egunoju- founder of Oyo igboho
Orompoto(probably a Queen)
Ajiboyede
Abipa- 1570-1580
Obalokun- 1580-1600(he was not buried in Royal burial ground, hence the suppressed name)
Ajagbo(1600-1658)
Adaranwu(1658-1660)
Kanran(1660-1665)
Jayin (1655-1670) appointed the first awujale of ijebu land
Ayibi(1678-1690)
Osinyango(1690-1698)
Ojigi(1698-1732)
Gbaru(1732-1738)
Amuniwaye(1738-1742)
Onisile(1742-1750)
Labisi – 1750-1750
Awonbioju – 1750-1750
Agboluaje(1750-1772) celebrated bere festival
Majeogbe (1772-1775)
Abiodun(1755-1805) celebrated bere festival
Aole
Adebo
Maku(1802-1830)
Majotu (Ilorin afonja seized by fulani)
Amodo (1830-1830)
Oluewu (1830-1834) King during the fall of ancient Oyo
Abiodun Atiba (1837-1859) -Founder of modern oyo, he also celebrated bere Festival
Adule (1858-1875)
Adeyemi I (1875-1905)
Lawani Agogoija (1905-1911)
Ladigbolu – Jan. 15, 1911-Dec. 19, 1944
Adeniran Adeyemi II- Jan. 5, 1945-Sept. 20, 1955
Bello Gbadegesin(Ladigbolu II) – July 20 1956- 1968
Adeyemi III-Present Alafin of Oyo(14 Jan. 1971- Till Date.
In Nigeria's educational curriculum, history of our origin is meant to be added, but we barely know about this things. Always remember to read on Nigeria's history to know our roots and origin as people of this country.
Also, don't forget to bookmark our blog, and subscribe to all our social media platforms including our WhatsApp TV channel that provides you with timely updates on our blog and other services.