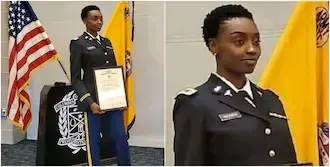 A Nigerian lady identified as Ruth Inomina has recently been commissioned as a second lieutenant in the United States Marine Corps (USMC).
This disclosure was made by a compatriot on LinkedIn named Justice O. Derefaka, who implored Nigerians to congratulate the young lady.
In his post on LinkedIn, Derefaka noted that the USMC is a branch of the United States Armed Forces responsible for conducting expeditionary and amphibious operations with the United States Navy as well as the Army and Air Force.
He added: "The U.S. Marine Corps is one of the eight uniformed services of the United States."
In recent times, Nigerians abroad have been making the country proud through their achievements in their fields of endeavour.
Recall that a Canadian-based Nigerian man identified as Kelechi Madu has been appointed minister of justice and solicitor general of the Province of Alberta in Canada.
Madu took to his LinkedIn page to reflect on his new appointment and vowed to ensure that everyone in Alberta has access to equal justice.
He said his legal work has always been informed by the fundamental belief that everyone deserves equal access to justice, adding that this will never change.
Madu said he cherishes the Canadian Charter of Rights and Freedoms, which says: "Every individual is equal before and under the law and has the right to the equal protection and equal benefit of the law without discrimination."
As usual, don't forget to bookmark our blog, and subscribe to all our social media platforms including our WhatsApp TV channel that provides you with timely updates on our blog and other services.